Características do Cygnus 1 Intrinsically Safe
RINA approved (Certificate No. 2009DGPO787)
Auto – Probe Recognition (APR)
"Deep-Coat" mode for measuring through coatings up to 0.787" (20 mm) thick
Easy calibration using convenient buttons
Rugged, durable, shock-proof construction
Stable calibration – linear accuracy – no zero adjustment
Large bright LED display for poor visibility
Pressure rated to 1,000 ft (300 m) depth
Heavy duty sealed unit with double 'O' ring protection
Self verification of measurements to ensure accuracy
Echo strength indicator to aid measurement
All probes are protected by a membrane to prevent damage
Various probe options
Two rechargeable battery packs with charger
Fixed head probe option for single handed use.
KIT CONTENT
Instrument, heavy duty probe (2.25 MHz 13 mm diameter), 2 rechargeable batteries and battery charger, spare membranes and 'O' rings, steel test block, calibration trim tool, couplant, operation manual and carry case.
APPLICATIONS
Chemical plants
Dry, dusty environments where ignition could occur
Fuel depots
Grain processing plants
LPG vessels
Oil and gas production facilities such as pipelines and offshore platforms
Petroleum, chemical storage tanks
Processing vessels
Road transport tankers carrying potentially explosive contents
Structures and facilities in mines.
Opcionais
TOPSIDE REPEATER OPTIONS
The Topside Repeater is used when the readings need to be verified on the surface. Umbilical cable length is specified by the customer up to a maximum of 3,280 ft (1,000 m). There are three options available:
Option A: Palm held surface display repeater with large liquid crystal display in an IP65 sealed case.
Option B: Data logging and remote display Windows based Cyglink Software.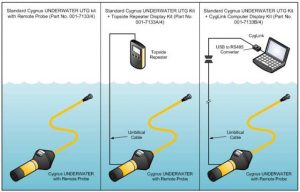 Also available, the Cygnus DIVE wrist-mountable underwater thickness gage as an alternative for diver use. For more information, visit Cygnus DIVE page and watch the Cygnus Instruments underwater ultrasonic thickness gage video.
Probes
Single crystal soft-faced compression:
1/4″ (6 mm) – 5 MHz
1/2″ (13 mm) – 2.25, 3.5 or 5 MHz
3/4″ (19 mm) – 2.25 MHz